Determine the right diet for your specific needs and fine-tune lifestyle elements to achieve results.
This science-based program is designed to provide you with a comprehensive health and nutrition review, ideal diet and customized lifestyle protocols, and continuous support for fine-tuning your protocols so you can attain successful results. The most common outcomes people want to achieve are . . .
Resolve Clinical Conditions
Get to the root of the underlying causes of your health issues so you reduce your risk for chronic disease, increase energy, improve your mood, and boost your brain power.
Release excess weight and body fat
Solve the underlying psychological and physiological causes of excess weight and belly fat so you can live your best life possible.
Up-Level Athletic Performance
Build lean muscle mass, increase speed & endurance, and improve recovery time with a functional sports nutrition approach.
"Let food be thy medicine and medicine be thy food."
— Hippocrates
Do you have any of these symptoms? 
Dr. Mark Hyman maintains that the "food industry's dirty little secret is that they have intentionally hooked us on addictive, hyper-processed, hyper-palatable, 'food-like' substances that have hijacked our taste buds, hormones, our brain chemistry, and our metabolism." And I would add that it's caused so much inflammation in our systems that it's significantly compromised our health, mental well being, and even athletic performance. As a result, many of us are struggling with a number of the following . . .
• Excess weight — especially around the middle
• Food cravings — particularly sugar, salt, or carbs
• Bloating — gas, diarrhea, or constipation
• Low energy — sluggish or caffeine dependency
• Brain fog — poor memory or declined mental sharpness
• Mood struggles — anxiety, depression, irritability, or low self esteem
• Stress — overwhelm, low motivation, or relationship problems
• Headaches — migraines or concussions
• Insomnia — trouble falling or staying sleep, or apnea
• Joint pain — arthritis or muscle aches, or slow recovery from training
• Allergies — including food sensitivities
• Poor immunity — frequent illnesses or autoimmune disease
• Congestion — sinus problems, post nasal drip, ear ringing, asthma
• Skin problems — acne, eczema, psoriasis, dull/aged skin
• Chronic disease— type 2 diabetes, heart disease, high cholesterol, high blood pressure, IBS
• Slow or stalled conditioning — slow to gain muscle strength, speed, or athletic performance
• Inflammation — of any form, wrecking havoc on your system
Any combination of even just a few of the above can leave you feeling like crap. I know because I've had to do the work myself to clear up many of these struggles.
The wrong food will make you sick and fat.
The right food will make you healthy and lean.
FOOD IS MEDICINE.
The 3 Primary Areas of Focus
Most people have a specific area of concern and fall into one of the three categories below. Of course, it's common to have two or more areas overlap. The Functional Nutrition program is completely personalized and designed to address all of your specific needs and goals. The following are outlined below to give you an example of what is possible within each of these areas.
Upgrading health requires research-based validated strategies to delay health deterioration, improve function, and address the undesirable signs and symptoms people are challenged with in their daily lives. Proper nutrition along with other lifestyle modifications have been proven to reduce the onset and symptoms of chronic disease*.
The truth is:
Half of all Americans have at least one chronic health condition.
86% of all health care costs can be attributed to chronic diseases.
Chronic diseases and conditions—such as heart disease, stroke, cancer, type 2 diabetes, obesity, and arthritis—are among the most common, costly, and preventable of all health problems.
Less than 1% of health care dollars are spent on prevention to improve overall health.
If our traditional medical system was true 'health care' there would be more emphasis on creating and maintaining health. Instead our medical system uses a disease focused model which focuses more on illness than the patient. It's expensive and usually ineffective!
Outcome Goals:
Reduced and fewer signs & symptoms.
Improved health status and biomarkers.
Fewer physical and mental sick days.
Improved quality of life.
Reduced risk for chronic disease.
*  The Centers for Disease Control & National Institute for Health recognize that lifestyle change programs are PROVEN to work!
Weight Loss & Weight Gain
According to the Centers for Disease Control (CDC) over 70% of us are either overweight or obese (with half of us being obese). Excess weight, belly fat, and obesity aren't just aesthetic problems, they're symptoms of dysfunction happening in the body.
Traditional views on excess weight and weight loss are outdated. It's not just a calories in/calories out problem. Dieting, crazy exercise routines, and bariatric procedures don't address the root cause and usually only result in temporary success, deprivation, frustration, irritability, and resentment..
Excess weight and belly fat are symptoms of imbalances in the body  
I want something better for you, permanent results that aren't difficult to achieve or maintain. My goal is to help you restore health to your body to release excess weight and fat naturally.
Being overweight, obese, or having excess belly fat puts you at risk for type 2 diabetes, cardiovascular disease, osteoarthritis, stroke, sleep apnea, and some types of cancer. Besides the scale, a better and simple way to evaluate yourself is to use a flexible measuring tape. For women if your waist circumference is greater than 35 inches, and for men if your waist circumference is greater than 40 inches, you're at even greater risk.
The problem with belly fat is that it surrounds the liver and abdominal organs. Also known as visceral fat, belly fat is metabolically active. It releases fatty acids, inflammatory agents, and hormones that can increase LDL cholesterol, triglycerides, blood glucose, and blood pressure. It's also associated with poorer mental health outcomes (like depression and anxiety), reduced quality of life, body pain, and it's the leading causes of death in the U.S. and worldwide.
Abdominal fat = increased disease risk.
Up-level Athletic Performance
Most athletes and dedicated exercise enthusiasts don't realize the significance of which nutrition can make or break your performance and/or physique. First and foremost, performing at optimal levels and looking your best requires a nutrition and lifestyle strategy that involves more than just determining macronutrient needs. A functional sports nutrition custom protocol considers the individual athlete's unique needs by evaluating all dimensions of their health status, age, looking for opportunities to upgrade their system functioning, understanding their mindset, and their performance and body composition goals.
What you eat and how you live impacts your athletic performance and physique just as much as it does your quality of life.  
While nutrition and lifestyle optimization is often the key to having a secure competitive edge, poor diet and lifestyle choices can cause chronic inflammation, pain, and disease, and be the root of issues that get in the way of performance and/or leanness. Besides determining best fueling strategies, uncovering food sensitivities, and identifying nutrient deficiencies, here's what else we can accomplish together  . . .
Increased energy instead of feeling sluggish
Improved strength, speed, and endurance instead of falling short
Leaner body composition and increased muscle mass vs bulking up
Faster recovery (post-workout and post-injury) instead of delayed healing times
Smooth digestive function instead of bloating, gas, pain, diarrhea, and constipation
Clearer skin instead of acne, psoriasis, and eczema
Stronger immunity instead of frequent colds and illnesses
"I never tell my patients to lose weight. I simply help them to restore health, and the magic of biology does the rest."
— Mark Hyman MD
What's included in the Functional Nutrition program:
⇒  One 90-minute Foundation Session where we complete a comprehensive health history evaluation, establish clear outcome goals, and identify initial personalized protocols.
⇒  Two 45-minute Follow-up Sessions for evaluating implementation & progress, providing support & accountability, and identifying next steps.
⇒  Personalized diet and lifestyle protocols for your unique needs
⇒  Various support handouts including recipes
⇒  Optional supplement recommendations (& discounted purchasing options)
⇒  Email support in between sessions
What Participants Are Saying
Hear what some of Karin's clients have shared:
"I had lost my edge and belief in myself. I couldn't get anything done at work, my brain was failing me, I had no energy, and I had completely lost my self confidence. I was scared I'd be fired if something didn't change soon. After working with Karin I felt light years better. My energy level improved, I started getting into a new grove, and everything started coming together. With Karin's help I created a new 'normal' for myself. Less anxiety, no more GI problems, more motivation, and more confidence. I went from almost losing my job to taking the lead on a huge project. And I hit it out of the ball park! "
"I've tried so many things before, but without the program I would never have done this on my own. I had done every single thing out there that I could think of."
"I really enjoyed working with Karin. She helped me become more mindful of my food choices and as a result, my migraines went away, my anxiety got better, and my knee and shoulder pain got better, and my irritable bowel problems that were once a show stopper in the bedroom and a problem at work also went away."
"In 37 years I've never been able to tune into me. It's much easier than I thought it would be. What helped me the most was the information on food itself and what your body needs. I'll carry it the rest of my life. Finally, being healthy is no longer an everyday struggle. It's actually easier eating this way. Plus, no more bathroom emergencies. "
Are you ready to do this?
Schedule your 90-minute foundaton session by clicking the button below.
About Karin
(and why I want to help you)
As you may know, it can be daunting trying to figure out how to lose weight, prevent chronic disease, resolve frustrating symptoms, or move past performance plateaus. Many of us have made committed effort and various attempts, but have yet to figure out how to actually achieve results.
How do I know? Because I was once in your shoes struggling to figure out why I had frustrating symptoms and perpetual belly bloat. And I also know by the countless people I speak with that I'm not the only one who has been lost in the infinite sea of overwhelming diet and health information.
It's time to change that!
Using principles of functional medicine, this program is designed to help you discover why your body is functioning the way it does. You'll become much more aware of what exactly you need to do to be feeling good again.
I treat each client uniquely, providing nutrition and health guidance based on individual needs, not general recommendations. When we work together we'll forge a partnership and travel together on your journey toward optimal health and wellness. My intention is to empower you to take charge of your health and encourage you to make mindful food and lifestyle choices that support your goals.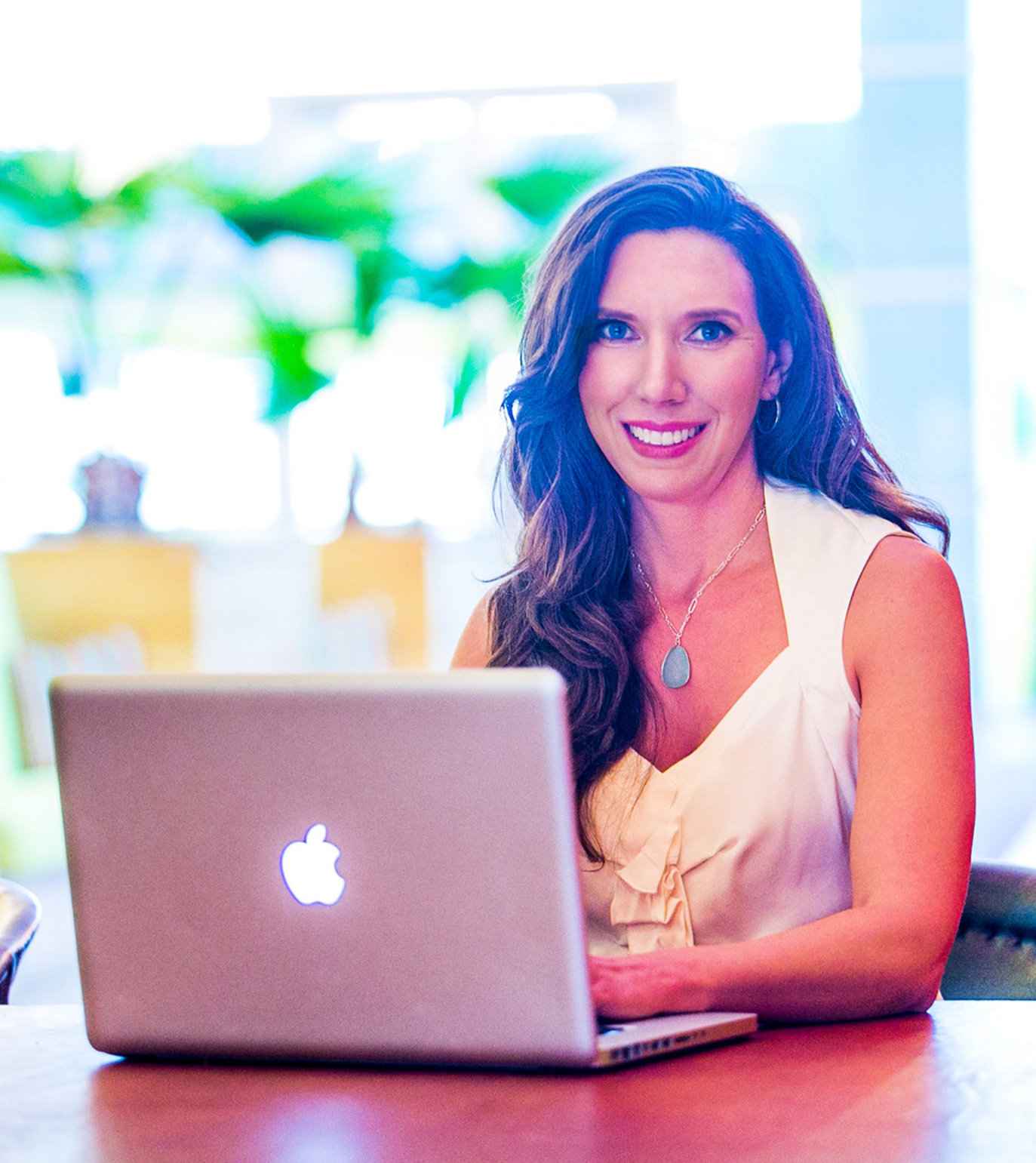 The Body ReNew Blueprint is your "whole systems reboot" that will put your body on a nutritional and lifestyle pathway to wellness transformation.
Frequently Asked Questions
Will I get a food plan?
It's likely I'll give you a food plan, IF you want one. Until we get started I can't say what type of plan it would look like. I can say that what ever your dietary needs are we will accommodate for them (e.g. vegetarian, paleo, gluten free, etc).
Will I be hungry?
Only if you don't eat enough! I don't believe in calorie restriction. In fact, I do want you to eat enough so that you feel satiated. I don't want you to go through your day feeling hungry or as if you cannot eat. Our bodies naturally know how much food we need to maintain an ideal weight, the trick is to tune in and listen to them to find out which nourishment is best for our unique system. I will teach you how!
Will I lose weight with this program?
It's very likely that you'll experience weight loss as a result of going through this process but I cannot guarantee it. There are two main factors that dictate weight loss: 1. Your willingness to fully participate in this program, 2. your overall health status,  3. possible underlying imbalances such as thyroid disorders, inflammation etc. Most people who apply themselves to proper self-care see benefit with weight loss.
What is the cost of this program?
The investment in the Optimized Nutrition program is $397 OR can be split into two monthly payments of $219.
What is your refund policy?
In the rare event you decide this program is not a good fit for you, you will be responsible for the pro rata share of the program that has already been delivered or any sessions canceled within 24-hours. Any sessions not used will be refunded minus a $50.00 termination fee.
Note that I also reserve the right to cancel the program if at any point I feel it is not advantageous for us to continue. If this happens, the you are only responsible for the pro rata share of services received. Any pre-paid sessions that are not used will be refunded.
Not sure if this program is for you?
Schedule a FREE 15-minute Initial Consult Discovery session by clicking the button below.
"If you are not ready to alter your way of life,
you cannot be healed."   
— Hippocrates